Rewind. The date is June 4th, 2014 - I find myself on an airplane to Düsseldorf, Germany, a city I that I have barley even heard of, a city I know no one in, yet a city that I am about to call my home. Feeling: Excited.
Fast forward a couple weeks - I am now stranded at the foreign office of Düsseldorf scattered to get a work visa. I check my email and notice I have received an invitation to attend the phenomenon that is 'trivago on tour'. Thoughts: I haven't even started work yet I just got invited to go on a company retreat to an unknown location with 400+ people (not a bad situation to be in) - I open the google doc to fill in my information, they want to know my shoe size, nationality and head circumference. Feeling: Interested.
As I started working at trivago, rumors spread like wildfire around the office to where we were going. Some pondered upon the idea of Switzerland, some thought we would be lounging in the south of France, while others (including myself) guessed the alps of Austria.
No one would know until the day the 'party train' left Düsseldorf HBF.
Let me put it this way - this wasn't the typical Euro Rail trip from Berlin to Munich on a Wednesday afternoon. There were 2 full 'party cars' similar to that of a party bus (like the one you got for prom when you were 17) with blaring music, and 2 rows of triple stacked bunks in one cabin. 400 people, 12 hours - destination unknown, ready, set, go.
After a long night & a somber 2 hour bus journey we had finally arrived at the picturesque location of Tirol, Austria (enter excitement here).
After indulging in a shower, brunch, and a welcome from the CEO's, the trivago olympics commenced for the rest of the afternoon. I milked a mechanical cow & yodeled while exploring my sensory perception by smelling wild herbs... I helped identify 6/10 presented. Glad I could contribute to the team, team #34.
The rest of the weekend included white water rafting, mountain biking, hiking, traditional austrian cuisine, mojitos, dancing with men in lederhosen, and sharing laughs with those who make trivago the successful company it is today. What more could we ask for?
The Resort
The Gradonna Mountain Resort was stunning in every way imaginable. Placed in the middle of the alps the resort had jacuzzi pools, natural wood details, modern amenities, a spa and activities to fit everyone's taste. My personal favorite was the spacious brick 4 bedroom, 2 bathroom chalet equipped with a contemporary kitchen, personal sauna, all overlooking the valley with 5 of my wonderful co-workers.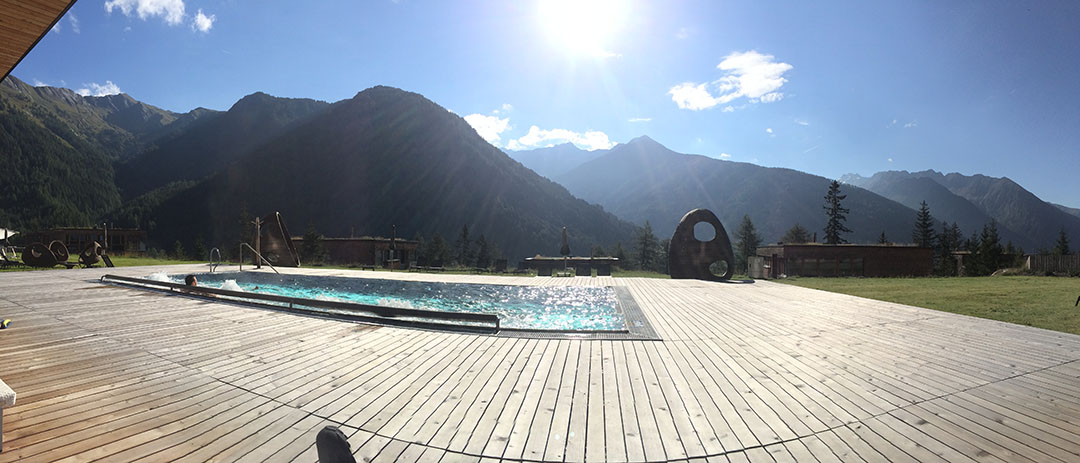 Mountain Biking
(hence the head circumference question)
The Hike
(hence the shoe size question)
Oh wait, how could I forget dinner on top of a mountain, and who would have thought that we could all look so nice when we dressed up. (Dress up friday's anyone?)
Concluding thoughts?
Cheers to my new friends & coworkers, Harry, the bartender at the hotel who served me hot water & freshly squeezed lemon / honeycomb when I lost my voice, trivago for sponsoring such an amazing event, and the beauty of the alps - it made photography that much easier.
OH & Get a job that you get excited for when you wake up in the morning, I know I do.